We take a look at the key features.
Table of contents:
– What is threshold delivery?
– How is threshold delivery different from other services?
– Find out more about threshold deliveries
Why threshold delivery? 84% of customers say that delivery is a crucial factor when it comes to the online shopping experience. But what happens when customers don't select the correct method of delivery?
As a delivery driver, you've surely been asked, "can you carry that inside for me?". Do you decline the now unhappy customer, as you notice this is a threshold delivery job? Or do you accept their request and go beyond your job requirement to keep them happy?
It's important to learn the difference, as you shouldn't go beyond the delivery service the customer has paid for.
This threshold delivery guide will break down the key features of threshold delivery, allowing you to understand what it involves and how it is different from other services.
What is threshold delivery?
Threshold delivery means that carriers will deliver an item to the first secure and dry place on the customer's property.
It is used when customers order bigger items that are hard to carry to the front of the property. Carriers or drivers are not permitted to carry the items inside the property. A great way for drivers to understand their role is through delivery delivery driver training.
▶️ Service Level for Threshold Delivery
The service level for threshold delivery is easier for the driver compared to other delivery services. The delivery only requires the driver to drop the shipment at the drop off location.
But there are two types to learn about – basic threshold and threshold delivery.
Basic threshold delivery means a driver can leave the shipment in the first dry place on the property. Basic threshold delivery services can deliver when the customer is not at home.
It's when an appointment is made with the customer for the shipment to be delivered to the door when they are at home. It requires a signature from the customer once they receive the shipment.
Sometimes this is when we find customer complaints, but this is the service they ordered. They may not understand why you left the shipment outside the property when no one was home. Or not understand why you cannot bring their shipment inside their property.
But for the threshold delivery service level, you are not required to do extra. In fact, the rest of your run will suffer if you do.
▶️ Cost
The difference in service level for threshold delivery means there's a cost difference too. It is an additional service and cost on top of less-than-truckload (LTL) or standard delivery. But it is cheaper than other methods, such as white glove service.
Other service levels will cost extra as they are designed for an easy, stress-free delivery experience. These additional costs vary from the different delivery companies.
▶️ Area of Delivery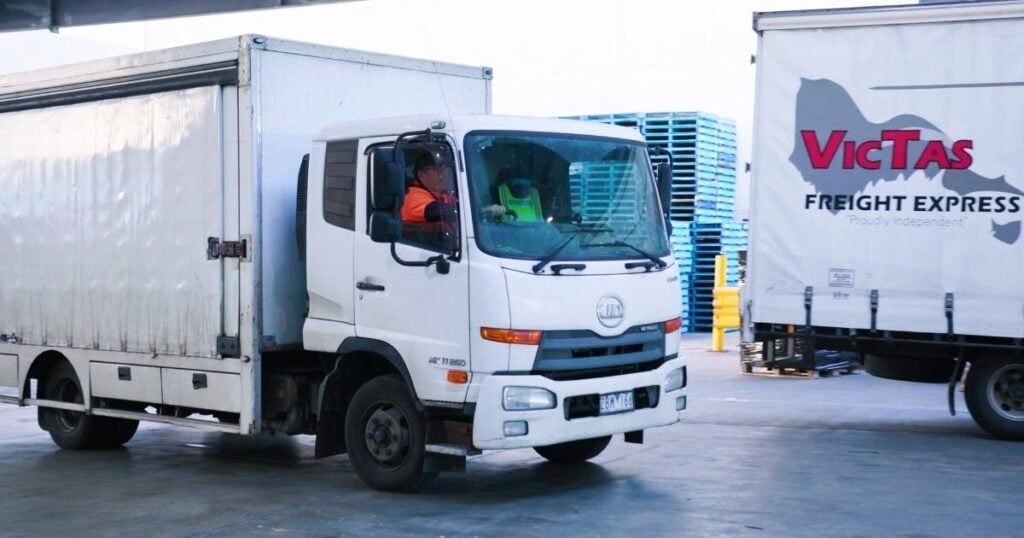 Knowing the property type (house, apartment or office) is important for threshold deliveries. This will determine what is classified as the first secure and dry place for the shipment to be left.
If delivering to a house, the first dry area could be the garage, porch, or the front door of the house.
When delivering to an apartment, you are required to deliver beyond the shared entrance and place the shipment into the lobby.
There could be stairs required to access a property; drivers will leave the shipment at the bottom of the stairs.
You are not required to deliver the shipment inside any type of property.
It will make your job easier if the customer has clearly stated in the delivery description where the secure and dry area is for the shipment.
▶️ Types of Products
Another factor for threshold delivery is the types of products that a driver can deliver. As the customer is the one required to bring items inside their property, they need to move them without damaging the shipment.
The kinds of products that are best suited to threshold delivery are items that are not heavy, fragile or any kind of luxury item. Products such as big furniture, medicinal equipment, or white goods are not good for threshold delivery.
Some properties can have difficult access paths or stairs in apartment buildings. Unless the customer is confident they can manage the shipment themselves, they should opt for a different service.
How is threshold delivery different from other services?
As we know, threshold delivery may lead to some unhappy customers. But customers need to know the difference between other delivery services to pay for the service they expected.
For standard delivery, which is the most common type of delivery service, shipments can be delivered outside the property but may not be in a dry area. Due to the level of service, it is the cheapest option for delivery.
Let's look at white glove delivery, where drivers are required to carry the shipment into the property. This service is better for heavy items like furniture, expensive luxury goods, medical or white goods. As customers can pick a 'room of choice' for the shipment to be placed in, so they don't have to carry it.
Extra cost services such as unboxing, packaging removal, and assembly can be added to the delivery.
Customers can save themselves from carrying heavy items upstairs or through the threshold of their property. It is a top-level service and stress-free for the customer compared to threshold delivery.
Find out more about threshold deliveries
With this complete threshold delivery guide, we hope you understand more about the service level, costs, area of delivery, and types of products involved. This information can assist you should you take on a threshold delivery job in the future.
Remember, this service does not require you to carry a shipment inside a property. This is to protect yourself from being exploited. Customers should opt for higher service level delivery methods if they are not satisfied with threshold delivery.
Get in touch if you have questions or want to talk about how this might work for you. Contact our friendly support team. We are here to help!