Table of Contents:
How Freight Management Software can revolutionise your company's logistics systems, save you time and money, and keep your customers up-to-date and happy.
Shipping stuff in Australia is complicated. You have to navigate a veritable jungle of supply chains, traffic conditions, regulations, big distances, shortages, oversupply, unpredictable demand and fickle customer expectations. So managing these complex and changeable conditions requires a set of management tools that are efficient, accurate, user-friendly and versatile.
Freight Management Software is designed to streamline the shipping of inward and outward goods. It does this by providing a centralised platform for managing all aspects of the shipping process: from order processing and carrier selection to documentation and tracking.
In this post, we'll take a look at what Freight Management Software is, how it works and its benefits. We will also explore how this software can help businesses in Australia manage their logistics operations more efficiently.
The Power of Freight Management Software
Freight Management Software (FMS) is a game-changer in the logistics world. It's the solution to optimising your freight operations and enhancing connectivity within your trade network. This versatile software can help to minimise your operating costs, improve customer experience, and allow seamless collaboration with your business partners, whether they are suppliers, carriers, or other operators involved in your logistics chain.
Let's unfold some of the tools you can find in this Swiss Army knife of handy digital gadgets.
The core processes of freight management software
In the world of freight management, several core processes are essential for smooth operations. These include:
Carrier selection. Choosing the correct carrier for your shipment is vital. Freight Management Software can assist logistics operators and owners of e-commerce businesses in selecting the best carriers based on factors such as cost, service level and transit time. It can also facilitate successful rate negotiation and contract management.
Route Optimisation. This is an important consideration for businesses in Australia because of the long distances that shipments often have to cover between cities and across the country. An effective FMS, tailored to your company's individual needs, will help you make informed decisions about the routes your drivers follow by considering factors such as distance, traffic patterns and delivery schedules.
The software can also analyse and assign alternative routes in real time. This can be very handy when your drivers encounter expected disruptions such as a flooded creek in the Flinders, a snarl-up in the middle of Sydney, or a mob of sheep on a back road in New South Wales.
Documentation and Management of Regulations. Navigating the complicated world of regulations and documentation can be as tricky as finding a route through a busy city suburb. Freight Management Software can help to efficiently manage all of the paperwork related to every consignment: from dangerous goods to ugly freight. It will ensure that you comply with local regulations including customs clearances and hazardous materials handling. 
Tracking Shipments. GPS systems have made tracking and tracing shipments in real time really easy. Freight Management Software blends seamlessly with GPS technology to provide you with constant updates on the status of your shipments and their delivery times. This enhanced transparency and reliability make it possible for you to keep your customers informed about the progress of the orders and allows you to monitor and adjust shipping routes according to changing conditions
Data Collection and Analysis. Knowledge is power in the logistics industry. And if you can use data collected by an FMS system to constantly tweak and improve your networks, you will be able to make sure that your logistics or e-commerce business leads the pack when it comes to reliability and customer service.
Freight Management Software is able to collect and analyse data on various aspects of your supply chain operations, from carrier performance to inventory levels. It provides real time analytics on key performance indicators like cost per kilometre and percentage of deliveries that are done on time.
Reaping the Benefits of Freight Management Software
A well-set-up Freight Management Software system can have a significant impact on your logistics operations or e-commerce business. It can enable you to move away from the struggles associated with paper-based systems and replace them with rapier-sharp digital processes. 
Cost Savings
Freight management Software optimizes shipping routes, negotiates rates with carriers, and reduces inventory levels. Studies have shown that businesses using this software can make significant savings on their transportation costs.
Enhanced customer experience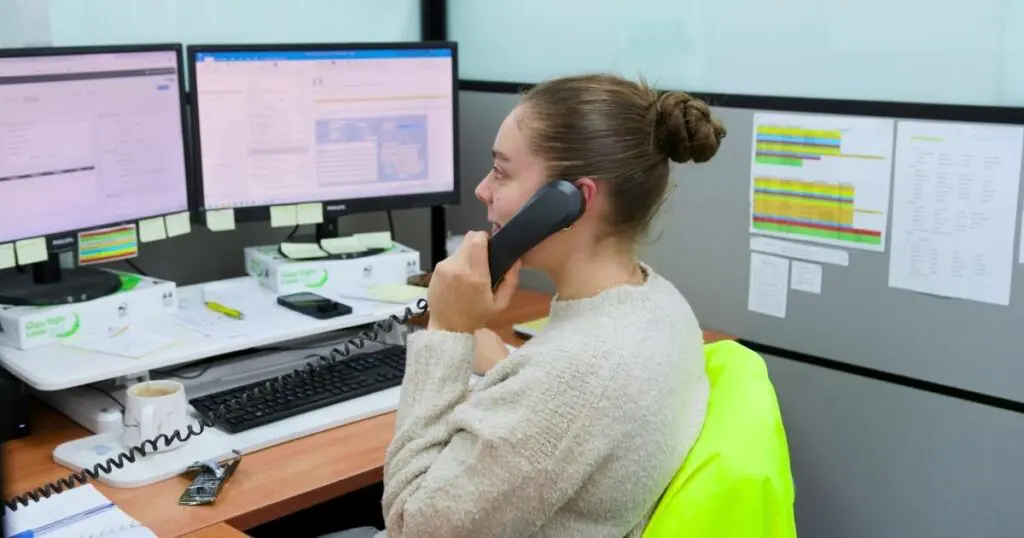 Clients love to know where their stuff has got to. As a matter of fact, people demand constant updates about the progress of their orders. Freight Management Software will allow you to provide accurate and timely updates on shipment status and delivery.
And the best thing is…it's automatic. No more juggling three phones to find out where a driver is while answering questions being fired at you by an upset customer. FMS just sends out messages for you, letting the customer know where their shipment is and when it will be delivered.
Improved connectivity within the trade network
FMS enhances connectivity by providing real-time visibility into supply chain operations. It fosters more effective collaboration with suppliers, carriers, and other partners in your logistics chain. It lets you check your supply chain from end to end: from raw materials to final delivery of finished products to happy customers. Most importantly, FMS systems allow you to foresee and fix problems before they can throw a proverbial spanner in the works.
Why Freight Management Software is So Useful in Australia.
Businesses in Australia face unique challenges due to the country's vast geography and strict regulations. Freight Management Software can be a game-changer when it comes to coping with our unique set of landscapes and laws.
Compliance with local regulations
Australia has some pretty stringent regulations around areas such as customs clearance and handling hazardous materials. Freight Management Software can help you stay on top of these regulations by collating and processing all of the documentation required by each shipment. It's like having a digital customs agent in your warehouse that will make sure all the Ts are crossed and all of the Is are dotted.
Enhancing the connections along your supply chain
With Australia's unique conditions and long supply chains, effective collaboration within your trade network is vital. Freight Management Software offers real-time visibility into supply chain operations, facilitating seamless collaboration with suppliers, carriers, and other partners in your network.
Finding the best routes
The vast distances between major Australian cities can sometimes pose a logistical puzzle, especially if you have time-critical deliveries to get done or difficult Last Mile obstacles to overcome. Freight management software helps you optimize your shipping and delivery routes based on factors such as distance and traffic patterns. This optimization not only reduces transportation costs and fuel efficiency but also improves delivery times.
Open Up the Swiss Army Knife of Logistics.
In the world of logistics, Freight Management Software is a tool that has so many features you'll soon find that it's indispensable for your business. It will streamline your operations, cut your costs, enhance your customer's experience, and improve the connectivity you have across your trade network and along your supply chains.
In Australia, where logistics comes with its own set of challenges, this software can be as useful as a little red knife with a white cross on it. Here at Transvirtual, we're pretty confident that our Freight Management Software will be a perfect fit for your business, whatever it is. So if you're in the business of moving goods in Australia, give us a call. We can show you how the versatile digital gadgets in Freight Management Software can be used in a variety of situations and contexts, just like a Swiss Army knife.