3PL can ensure the job is done correctly.
Table of contents:
– What is 3PL?
– How does third party logistics work?
– 3PL vs. 4PL – What's the Difference?
– Benefits of 3PL
– Disadvantages of 3PL
– 3PL Examples by Industry
– Choosing a 3PL Provider
Every supply chain has a dizzying amount of moving parts. Warehousing, managing inventory, order fulfillment, delivery, and more – how can a single business handle so much at once?
That's where third party logistics (3PL) can deliver on every front.
In this post, we'll cover the 3PL meaning and how your business can truly flourish with the help of a third party logistics provider.
What is 3PL?
Understanding the 3PL meaning may seem like it requires a degree in logistics, but it's actually quite simple. Third party logistics providers are outsourced companies that help other businesses with their supply chain and logistics issues. Essentially, they're where you can store your products and ship them out from when you don't have the space or fleet of vehicles to handle it on your own. The term 3PL is actually interchangeable with ideas like fulfillment warehouses or fulfillment centers.
Different 3PL services companies offer differing services depending on the types of businesses they serve. For instance, if you sell food and beverage products, a third party logistics company may have refrigerated warehouses and trucks to keep temperature-sensitive goods in perfect condition. If you deal with hazardous materials, a 3PL may offer safety guarantees, employees in hazmat suits, and follow strict industry regulations when handling your products.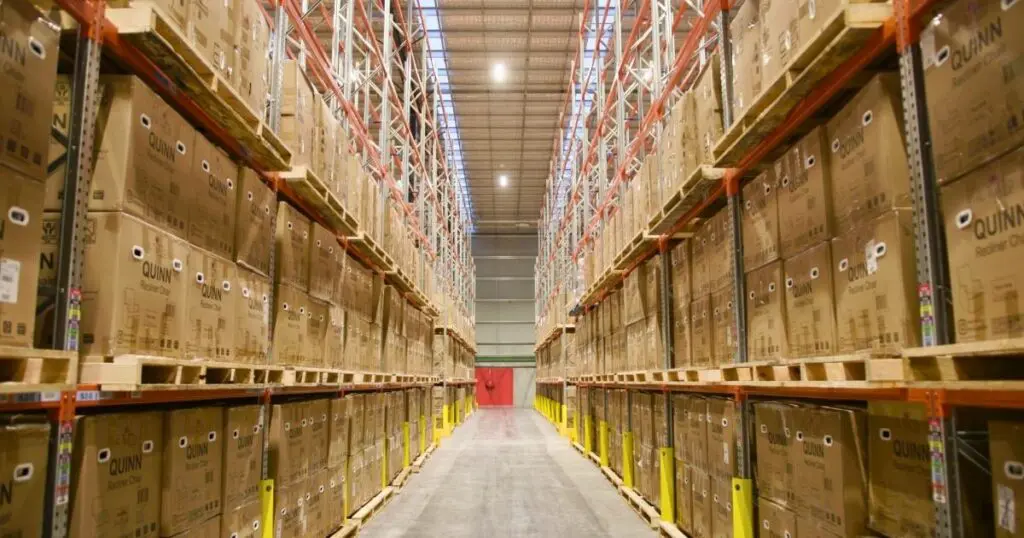 How does third party logistics work?
3PLs manage some of the most important aspects of supply chain operations, allowing businesses to focus entirely on growth and acquiring more customers. The supply chain and logistics issues they handle vary widely depending on what each company needs.
The biggest impact from 3PL services are how well they take care of sorting, managing, and scheduling small-to-large inventories. They also maintain those inventories in the best possible condition before packing, shipping, and sometimes assembling products before they end up on store shelves.
Third party logistics companies will even negotiate for shipping rate discounts and take care of subscription box orders for a diverse array of businesses. In other words, they allow your business to do what it does best – create products – and they handle the rest.
3PL vs. 4PL – What's the Difference?
While studying up on 3PL services, you may also notice another type of business – a 4PL. A 4PL service provider creates an additional layer of separation between your business and the 3PLs handling your outbound logistics issues. 4PLs will often oversee the 3PL services a business needs in an arrangement often called "double brokering."
Such an arrangement proves seriously beneficial for many businesses, especially in the eCommerce sphere. Small companies without the capacity for managing their own inventories and supply chains can
benefit from knowing their products will end up in consumer hands without their direct involvement in the process.
Benefits of 3PL
Too many businesses falter once they start becoming more successful. Once you know you have a product consumers want, you need to expand at the same pace as demand. Otherwise, you'll fail to deliver your products and your customers will no longer want to do business with you.
Imagine this scenario: you have a sudden surge in order volume. Maybe a famous influencer used one of your products without you realizing it. Maybe your product became a huge sensation overnight. Would you have the infrastructure in place to deal with such a spike in demand?
That's where 3PL shines the most. When you need someone else to handle manual labor like packing, picking, and shipping, a 3PL can ensure the job is done correctly. Many fulfillment centers also have fully automated inventory control systems to reduce the potential for human error.
Additionally, if you don't have enough inventory space in your facility, most 3PLs function primarily as warehouses. Indeed, many companies fail to realize the costs of carrying their own inventory (as much as 21 percent of your total logistics expenses!). And when 3PLs negotiate for preferred shipping rates, you'll save money and pass those savings on to consumers with benefits like lower prices and free shipping.
Disadvantages of 3PL
The main disadvantage of a 3PL warehouse is the upfront investment – both in money and time. You'll have to pay to ship products from your facility to their warehouse. There will be receiving costs, warehousing fees, pick-and-pack fees, and shipping costs to end customers. You'll also encounter account creation fees and monthly minimum payments for ongoing services.
Also, your company likely has eCommerce software, unique SKU information, and a number of accounts they'll need to access. This process will involve some significant back-and-forth that could be time-consuming unless you have a dedicated team member communicating with your 3PL services provider.
However, once you've gotten over the initial time investment and accommodated the 3PL warehouse in your monthly budget, the benefits can drastically outweigh these disadvantages.
3PL Examples
Common industries that use 3PL
Regardless of the type of products you manufacture, you'll be able to find 3PL services that work for you. Some of the most common industries that utilize a 3PL warehouse for their logistics needs include:
▶️ Raw materials providers
▶️ Bulk goods producers
▶️ Apparel companies
▶️ Retail companies
▶️ eCommerce businesses
▶️ B2B brands
Popular 3PL Service Providers in Australia
Each of the industries mentioned above has a fairly wide selection of 3PL providers to choose from depending on their region. Some major 3PL examples in Australia include:
▶️ Invenco
▶️ Toll Group
▶️ PikPak
▶️ StarTrack
▶️ eStore Logistics
▶️ Coghlan
▶️ DB Schenker
Choosing a 3PL Provider
When you decide it's time for your business to work with a third party logistics provider, you'll need to find the ideal partner. The best 3PL warehouse for your business should integrate effortlessly with your existing selling platforms. They should be experienced in shipping the types of products you make and sell.
Keep in mind that every 3PL warehouse is slightly different. Few provide a one-size-fits-all solution for your outbound logistics needs. It's important to do your research and figure out which third party logistics company will work best for your company's future.
Find out more about 3PL
Advances in logistics continue coming our way at blinding speeds. That's why TransVirtual is always ready to help your business understand these changes and how they'll affect your bottom line.
To learn more about the transportation industry and how your business can benefit from cutting edge 3PL software, reach out to our friendly team today! Contact us for a chat or you can book a free personalised demo.