Coordinating logistics from A to B.
Table of contents:
– What is Third Party Shipping?
– How does it work?
– Advantages of Third Party Shipping
– Disadvantages of Third Party Shipping
– How does it differ from other shipping methods?
Every business needs a way to transport their products to the customer, but not every business is going to have the funds, time, or expertise required to set up their own logistics operation.
Instead, companies may consider bringing on a third party to help them coordinate their logistical needs and get inventory from A to B. But what does this entail, exactly?
This blog will walk you through the ins and outs of third party shipping: including how it works, why people use it, and the pros and cons of this method.
What is Third Party Shipping?
Third party shipping involves a business sending their inventory to a separate entity (often called a third party logistics provider or '3PL'), who handles all the businesses' shipping and distribution needs for a fee.
Many businesses find this to be an ideal solution because it saves them from needing to invest in their own complex and expensive logistics operation, and they are able to benefit from the experience and connections of the more established third party.
How does it work?
Different third party shippers can have slightly different processes, but the standard course of action looks something like this:
After negotiating a contract with the third party, businesses ship their inventory to the third party for storage in their warehouses. When new orders arrive through the business' website, the business informs the third party who then coordinates and sends out the shipment.
Advantages of Third Party Shipping
We've put together three reasons why businesses love to use third party shipping:
1. Benefit of Experience
Simply put, third party shippers are in the business of shipping - and they're usually pretty experienced at it. 3PLs operate within highly coordinated systems, meaning that there are less hiccups compared to when you're starting out with a homegrown operation. Another benefit of this experience is that third party shippers can often secure better warehousing and carrier rates as a result of their ongoing business relationships, helping to drive up efficiency and reduce costs.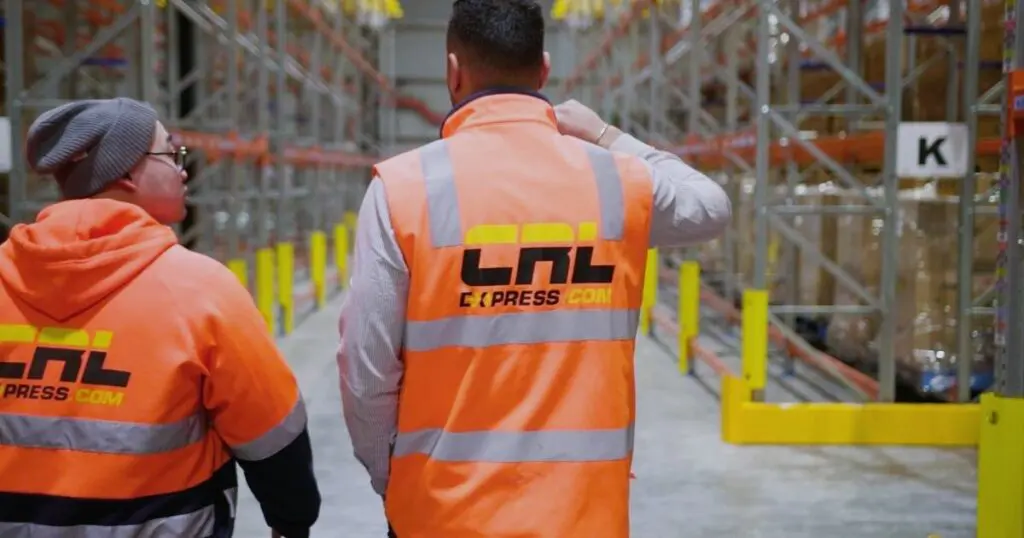 2. Better Shock Absorption
In comparison to only shipping out one product and having to weather ebbs and flows in business throughout the year, third party shippers handle inventory for a variety of businesses and therefore are better able to withstand market fluctuations. This means that 3PLs are often the preferred shipping method for businesses that have distinct busy and dry periods such as seasonal rushes.
3. Easy Scalability
A massive benefit of using a 3PL comes from the fact that it is already a large business with the capacity to move large amounts of inventory. Compared to a home grown operation which requires hiring extra staff, warehouse space, and renegotiating carrier contracts in order to move more inventory, using a 3PL can make it hassle free to scale up operations as your business grows.
Disadvantages of Third Party Shipping
As much as it can take the stress out of shipping, using a third party shipper isn't the right choice for every business. Here are a few disadvantages to keep in mind:
1. Higher Overheads
When you partner with a 3PL company, you're being charged for the convenience of a middleman. Although 3PL companies may be able to get good rates from warehouses, carriers, and other players in the transportation industry - somewhere along the way they need to make it worth their while, which means charging you what can be a hefty premium for their services.
2. Less Control
As part of handling most of the work of the shipping process, 3PLs by nature have to handle a lot of the decision making. Compared to shipping out inventory yourself, using a 3PL provider means that you have to give up some control over the operation in order for the third party to function effectively. This can be unappealing to some businesses, who want to maintain oversight of the entire supply chain and ensure quality.
3. Lack of Specificity
3PL companies are profitable because they handle the inventory of many different shippers. Larger companies can have client lists in the thousands, and many can find that it's hard to get the attention and support that they need to thrive within this environment. Moreover, if you're shipping goods that require highly specialised storage and handling (eg. temperature controlled goods, dangerous goods, etc) , then many 3PLs will be unable to meet your needs due to the generalised nature of their business model.
How does it differ from other shipping methods?
▶️ In-House Logistics
The obvious alternative to third party shipping is using an in-house logistics operation. Under this model, you would be responsible for warehousing inventory as it comes in from a manufacturer, then negotiating with carriers about its delivery. This model gives businesses much more control over their inventory and the carrier they choose, but can be a hassle to scale up and protect against seasonal fluctuations.
▶️ Drop Shipping
Another common alternative to third party shipping is using drop shipping. Drop shipping is a practice under which an item is shipped directly from the manufacturer to the consumer. Under this system, orders are placed through you as a middleman, but you don't actually have to handle the inventory at any point. This method is appealing to many businesses starting out because not needing to invest in warehousing and inventory management keeps overheads low, but this method also gives you the least agency over operations. Many in the shipping industry consider drop shipping to be risky business because of this, and quality control horror stories are a dime a dozen.
▶️ Fourth-Party Logistics
Whilst third party shipping focuses on shipping and logistics, a 4PL provider exercises more control over the entire supply chain, including planning and management function. These providers are ideal for complex and intricate jobs that require bespoke supply chain management, or for companies looking for a more holistic logistics solution.
Coordinate shipments with TransVirtual
Are you looking to expand your knowledge of logistics and take control of your shipping needs? Get in touch with our friendly team to chat through your best options or you can book a free demo to see TransVirtual TMS in action. We're always here to help.