Visit us at MEGATRANS in August
Come and visit the TransVirtual team this month at MEGATRANS Expo 2022 - Australia's largest integrated trade show & exhibition for logistics, transport, warehouse and supply chain businesses.
We'll be at stand #1103 from Wednesday 24th - Friday 26th August at the Melbourne Convention & Exhibition Centre.
The MegaTrans Expo runs over 3 days and is an event not to be missed. Meet with industry experts, learn about the latest innovations and see how other businesses are tackling their biggest issues.
200+ Exhibitors
9,600+ Attendees
45+ Conference Speakers
Awards Gala Dinner & Industry Insights Breakfast
If you're attending the event, remember to swing by for a chat or you can book in a time with the TransVirtual team in advance.
For the first time, the MEGATRANS Expo will be held side-by-side with the Australian Bulk Handling Expo, with one ticket entry into both exhibitions.
See the full event program.
Who will be at MegaTrans?
You'll be in great company with many (if not all) of the top logistics, transport and supply chain companies on display, showcasing their services, products and technologies. With speakers from MT Data, Australia Post, Linx, Hubbed, Maersk, Dematic, E2open, ANL, Port of Melbourne, uTenant, HFW and the Australian Border Force.
See the full list of exhibiting companies.
Where to find us
Our TransVirtual stand is right near the entry at Exhibition Door 5, see below map.
Stand: #1103
Dates: 24th-26th August 2022
Location: Melbourne Convention & Exhibition Centre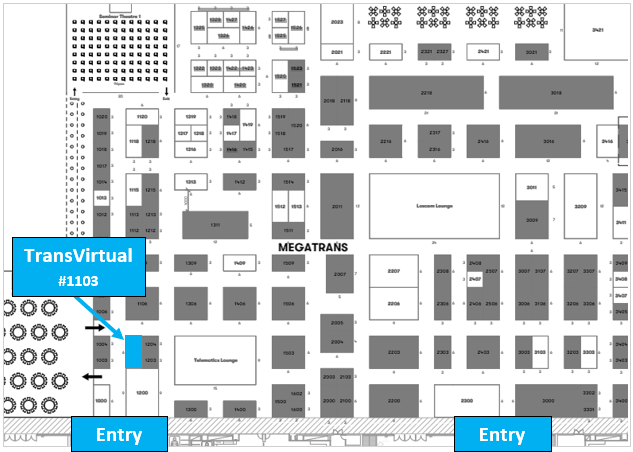 Psst... we're giving away Free tickets!
For TransVirtual customers and their industry friends we have a number of free tickets with access to both MegaTrans and the Bulk Handling exhibitions across all three days.
If you're interested in free tickets, let us know as soon as possible. We look forward to seeing you at MEGATRANS 2022!