Starting a courier business is a huge undertaking and you'll always have a lot to consider. Aside from general business tasks, let's look at some questions you need to answer when you're starting your new courier business.
Whether you'll have your own run with one vehicle or manage a team of drivers, we'll go through your initial considerations as well as how to optimise your delivery processes.
Let's take a look.
What is a courier business?
A courier business delivers items (e.g. packages, documents, products, medical supplies) from one location to another. This can be from a business-to-business, business-to-consumer or directly from one person to another.
Part One - Starting a courier business
Are you managing a team of couriers or are you an independent contractor?
If you're independent, will you bring on extra help during the busy holiday seasons? If you're managing a team of drivers, you can consider a small business loan to manage the start-up costs like having company vehicles.
What changes between the two business setups is:
the volume of your deliveries
the amount of money you need to charge per delivery (to pay your salary and your drivers' salaries)
how much paperwork is required.
If you're managing a team of drivers, be sure to pay them in a way that benefits your business come tax time. This is usually fairly simple: have them register as an independent contractor. You can stay up to date with the requirements of employees vs. contractors via the ATO.
Finally, the functionality of your software will change when you're managing a team of drivers. At TransVirtual, our flexible and full-featured TMS works just as well for individual drivers as it does delivery teams.
1. Will you have a niche, and if so what is it?
Ask yourself: why would someone want to use your services? This will help you position your business ready to pitch for new clients as well as understand some potential considerations.
You might find more success if you pitch yourself as an industry specialist. For example, a refrigerated courier service or a food delivery service.
It also helps you optimise your delivery processes to your chosen industry, which makes it easier to find new couriers if it comes time to expand your operations.
Do be sure you consider the full implications and requirements of your industry. If you start a courier business specialising in medical supplies, you'll also need to have (or get) experience handling medical equipment.
2. How will you train your drivers?
A quick note: even if you're an independent contractor who works alone, it's useful to outline a clear delivery process, so you can see where you need to optimise and you're able to deliver faster, more efficiently and more profitably.
So don't skip this section, we're looking at the best practices of professional delivery drivers. It's important to get this part right.
When you've started a courier business and you're looking to bring on more drivers, post your job ad on online job boards (like Indeed.com or LinkedIn).
As you already understand exactly what kind of delivery service you offer, it will be easier to write a job ad that attracts your ideal candidates.
Here are some questions to ask:
Will you provide the vehicle, or will they?
Do they need any special kind of driver's license?
Do they need experience in areas other than driving (remember the medical supplies as above, for example)?
What are their hours likely to be?
Are they required to work nights, weekends or holidays?
What's the expected salary or hourly rate?
You may not have answers for each question yet, but if you give as much detail as you can you're more likely to find someone truly suited to your role.
Now it's time to train them.
You can read about training a delivery driver, we wrote about it in depth.
In essence, it's about mindset rather than technological capability. Your drivers need to treat their run like it's their own small business. Basic things like: looking professional, clean vehicles, and treating the package well.
And finally, once you've set up, there's a larger question: how will you find clients when you start a courier business?
Let's have a look at that.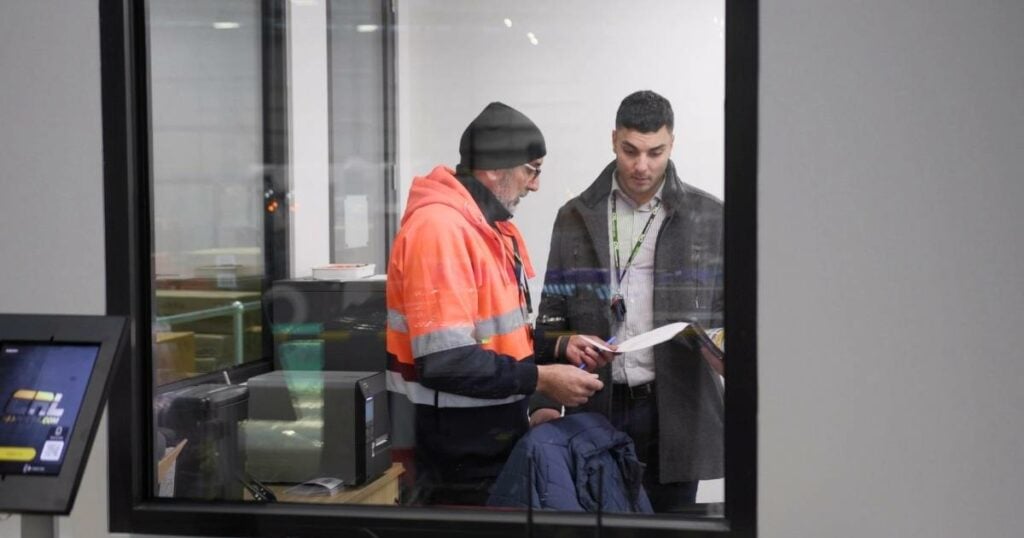 3. Growing your client list
Beyond the mechanics of optimising your courier service, you need to be constantly growing and managing your client list so that you have recurring work.
If you answered 'Yes' to our question about having a niche, then you'll find that helps you approach potential customers (we'll talk more about that later).
But if you've started a more general courier business, delivering all kinds of packages, it's not as obvious. Although it is still quite simple - think of something that people get delivered and work out who you need to talk to about fulfilling that delivery service.
It can be a good start to contact a local business that already offers delivery, and find out if you can offer them a better (or more affordable) solution. Businesses like:
Restaurants
Grocery stores
Florists
Breweries
Pharmacies
The good news is that courier businesses tend to have pretty local runs, so you'll probably only need to scout a limited area.
You can also try joining online forums and networks for couriers, however, these tend to be extremely competitive and can have very large numbers of couriers pitching for a single service.
Part Two - Make your courier business profitable
TransVirtual is a full-featured Transport Management System (TMS) that automates many of your back-end processes, so that you can optimise your courier business for efficiency, speed and profits. It will help you get the goods into the consumer's hands as fast as possible (and keep your customers happy).
How can you do that?
1. Route optimisation
Route optimisation is about creating the most efficient route possible for your drivers. It's also sometimes called route planning or route scheduling.
More efficient routes mean that you can: deliver more packages in a single day, reduce labour and fuel costs, and allow customers to get their packages sooner.
But for your dispatch team (or yourself), route optimisation can be complex and time consuming. It can take hours everyday.
To truly optimise a delivery route you need to factor in many things:
a driver's workflow
the freight they have onboard
the order of their stops
the travel time between stops
the time taken to complete a pickup or delivery.
TransVirtual looks at all of this and generates the best possible route for your drivers. When you start a courier business and use our software, route optimisation becomes an automated process that saves you time, fuel and money.
2. Route monitoring (or driver tracking)
You can be reassured that you've optimised your routes, but route planning is just the beginning of a dispatcher's day.
Route monitoring, or driver tracking, is essential if you manage a team of drivers. It allows you to follow your driver's progress in real time, in the context of their whole schedule.
Once your trucks are on the road and routes are in progress, things can change quickly (very quickly). You may need to add stops to a driver's route or even switch jobs between drivers. Using a TMS purpose-built to handle these kinds of changes can help keep your drivers moving efficiently, avoiding time-consuming manual searching and re-routing.
Imagine you get a last-minute job that needs to be picked up immediately. Suddenly, your dispatch team needs to know which driver has enough time in their route and can handle another stop. Or they need to know which driver is closest to the parcel's pick up and drop off locations.
Starting a courier business without a route monitoring tool is self limiting. It means you may not be able to make the best choices in the moment, which can slow entire days down (and cost you more money).
3. Order tracking
Once you start a courier business, you can save a lot of time on customer enquiries with automated receipt notifications, or order tracking.  
Those little SMS updates that tell you where your package is up to? People have come to expect them. If you've ever ordered a package from Amazon, for example, you've probably received detailed tracking information as your package makes the journey to you.
Using TransVirtual means you can provide that same level of service, no matter the size of your business.
You'll be able to send SMS messages or emails (or both) to the consumer when:
Your driver has officially started the route (giving a general ETA)
Your driver is closer to their stop (with a more precise ETA)
The consumer can also communicate directly with the driver, so if they need to leave instructions about a dog or a hard-to-find unit they can.
All of this means that you or your team can focus on other important jobs. And, you can take on new deliveries without worrying about whether you can manage the load.
This leads us to proof of delivery, because even if you're not getting calls about ETAs, there'll always be those calls asking about missing orders.
4. Proof of delivery
As a courier, the last part of your delivery operations is about safely dropping the right goods to the right doorway.
As you'll know, an order can go missing for several reasons. It could be stolen from the delivery location, or hard to see where the driver left it safely, or the package could have mistakenly been left at the wrong location.
It's important to get proof of delivery (POD) to verify exactly when and where your drivers left the package. 
TransVirtual lets you collect proof of delivery in two ways:
Photographic POD: When you deliver a package and there's no one to sign for it, or a signature isn't needed, the driver can simply take a photo of the package at the door and load it into their app (which also saves the GPS coordinates). This gives you and your customer and peace of mind.
Electronic Signature: Sometimes a signature is required. TransVirtual has a feature called sign on glass. It turns your driver's phone or device into a signature portal which is then uploaded instantly into the app along with GPS coordinates.
POD helps your customers, too. The customer will get an email notification letting them know their delivery was successfully completed, along with a photo that shows exactly where the driver left their package.
So just to recap, there are four key ways to optimise your last-mile delivery processes when you start a courier business:
Optimising your routes
Monitoring those routes once in progress
Sending order updates to the consumer
Capturing proof of delivery
Using an automated Transportation Management System (TMS) like TransVirtual allows you to implement all four of those steps simply and seamlessly, freeing your time up to work on your business rather than in it.
Next steps...
There are so many other considerations when you start a courier business (things like business name, insurances, social media pages, and so on). But to make sure your new business is sustainable and profitable, you must optimise your delivery processes. 
No matter your industry niche, or lack of, a successful courier business is one that can deliver goods to their final destination safely and quickly, while also making enough money to cover costs and pay everyone involved.
Using a TMS like TransVirtual means you will reduce costs while still making sure your clients (and their customers) are happy with your service.
If you'd like to learn more about how TransVirtual can help you start a courier business, get in touch today for a chat or you can book a free demo.