How to increase your profit margin (without losing it to extra costs)
Profit is too often lost to increased costs. It can be really hard to keep a hold of that hard-earned margin, can't it?
Well, we've been in this industry for a lifetime and we've learnt a trick or two. So we're compiling eight powerful strategies for holding onto your profit margin in a delivery business. (Plus asking you to think outside the square with our final question.)
It's all about lowering your costs while you raise your revenue. Let's jump right in.
1. Aim for incremental growth
It's easy to get ahead of yourself in business. You start thinking about your ultimate profit goal, and forget about all the little steps it takes along the way to get there.
Instead of jumping right to the final step, aim for incremental growth. It's important to have that end goal, but without setting small goals to manage and track over time you haven't set yourself a path to get there.
Setting incremental targets allows you to make consistent progress and monitor how your business is performing.
2. Build an incredible team
Increasing your profit margin is partly about what you do, but also about who is doing it. Build a capable, knowledgeable team of people who work well together and who genuinely care about your business.
Who supports you 100%? Who not only knows the company inside and out, but raves about your business and brings in new customers?
To increase your profit margin, creating an internal culture of genuine fans is just as critical as getting your service right. Because when you assemble a team of people who are excited to work for your business and spread your message, that's exactly what they do. They work hard, and bring others along with them.
3. Identify what's not working
You need to take an objective look at your business to identify gaps. There's always more you can do to make it more profitable.
Look at your expense reports, staff activities and current jobs. What areas can be improved? If there's a noticeable gap, address it. Identifying exactly where your business can improve gives you the obvious next steps to increase your profit margins.
4. Streamline your processes
In our industry, speed matters. But that's not just because customers demand it and competition is fierce. It benefits you, too. The faster you can move your freight, the faster you can get paid.
Look closely at your processes and workflow. From the first contact with your customer to final invoicing, where and how can you speed things up?
By streamlining your back-end processes using TMS software, you won't only speed things up, but also lower costs.
Now this is where we really shine. TransVirtual was built to help you streamline your back-end processes. Let's look at what that might look like for you.
How many hours do you or your team spend invoicing every single week? This is usually an area where you can lower costs dramatically.
Imagine invoicing and sending rate cards automatically.
With TransVirtual, you can set your system up to work exactly as you need it to.
▶️ Customise invoices for individual clients or for agents or on-forwarders
▶️ Change the frequency. Invoice based on a single job or daily, weekly, fortnightly, bi-monthly or monthly
▶️ Vary when prices are added (on consignment creation, at POD, or another time) or manually adjust. 
▶️ Invoices are automatically closed and ready for review.
▶️ Use reverse billing and validation tools.
▶️ Set up powerful and flexible rate cards with varied pricing structures and simple copy and up rate functions. Easily add markups and margins.
It's pretty simple, minimising your data entry means spending less time on repetitive tasks. How would you use that time instead? Or would you simply pocket the savings?
The next process to look at is your route planning and optimising.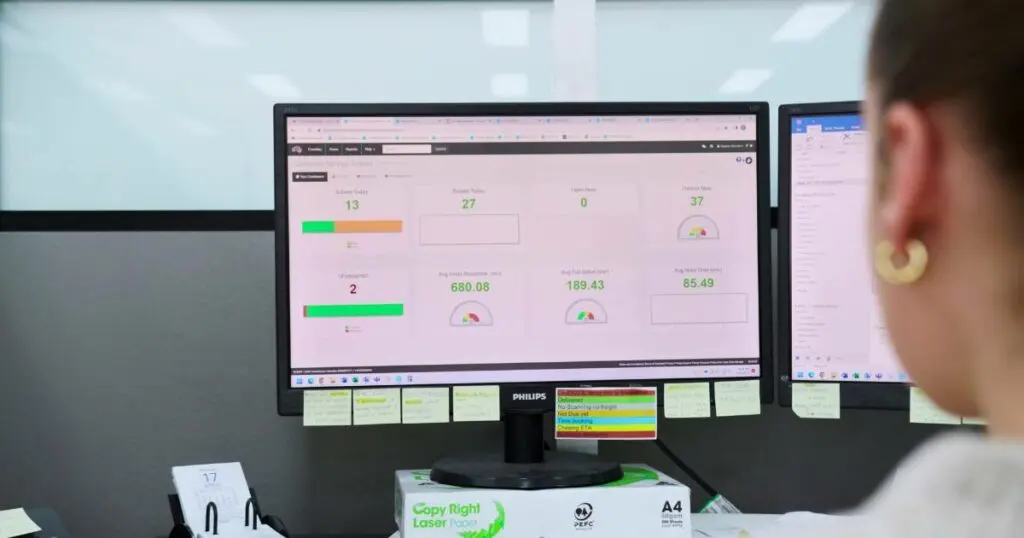 6. Route optimisation
This one's obvious. Route optimisation saves time, lowers costs and moves your freight faster.
When you integrate route optimisation into your workflow (rather than using a third party app) your drivers will know at a glance:
▶️ What they have on board
▶️ Where they need to go
▶️ The fastest way to get there
And when seconds count, that's going to make a big difference isn't it?
Route optimisation lowers your costs significantly. When you minimise the distance travelled, the stop time and fuel usage, you'll shave your costs, including overtime.
It also keeps your customers happier. With clever route optimisation and better tracking communication you'll get goods into the consumer's hands faster than your competitors. And that's a recipe for repeat business.
And with TransVirtual it's really easy. Scan deliveries into the app, press one button and we'll calculate the shortest route for you. If you want to, you can also direct your drivers every step of the way with turn-by-turn navigation.
7. Regular fleet maintenance
Regularly maintaining your fleet is essential not just for safety but for efficiency.
Making on-time maintenance and repairs means you're less likely to need to use your profit to pay for sudden large repairs. Unfortunately, fleet management is complex and time-consuming and, consequently, can also be expensive in itself.
Using an automated management system like TransVirtual makes it easier to:
▶️ Track fuel usage and maintenance costs
▶️ Set up rego and insurance renewal alerts
▶️ Schedule maintenance reminders
▶️ Record pre-start checklists no matter who's driving
You will more fully understand your costs. Having data in one place makes accounting easy and helps you plan for the future in an economical way. If you'd like to learn more in depth, we wrote a detailed guide to proactive fleet maintenance.
8. Increase visibility
Increasing visibility is the quickest and simplest way to tighten up your supply chain and increase your profit margin. This means digitising your information (automating your processes) so that it can be accessed instantly. It's like shining a great big searchlight into the once hidden corners of your chain.
Track and trace is known to be time consuming. It doesn't have to be. Using a management system like TransVirtual, you can stay informed and in control by tracking every item through your network.
Take it to the next level and leverage automated email and SMS notifications that can let your senders, receivers and staff know when important events take place, in real time.
Imagine for a minute that it it's peak Christmas chaos.
Your customer calls to enquire about their missing freight, and your team can see—in real time—exactly where that freight was last seen.
No need to wait for the paper trail or make any phone calls. It's sorted quickly. Your team goes back to processing the day's automated invoices (which takes mere minutes).
Sounds mighty good, doesn't it?
One final question
Now that you know how to regain control of your time and business, we'd like to ask you a question: can you innovate?
There aren't many companies that offer their customers something brand new. But the ones that do are the ones who enjoy cult followings and soaring revenue. These successful businesses expand on existing ideas in a way that's useful and appealing to their customers. They strategically innovate.
We're innovating by digitising paper-based processes, and combining those powerful capabilities into one transport management system.
Netflix innovated by taking movies out of the video store and bringing them directly to your TV.
If you're able to innovate, and create an innovation culture within your business, you'll stay ahead of your competitors. (And watch your profit margins rise accordingly.) Food for thought.
Find out more...
For additional information about creating a more profitable delivery business, contact the TransVirtual team today for a chat or you can book a free personalised demo tailored to your business needs. Our friendly team are always here to help.