How to train efficient and happy delivery drivers.
Think about your driver's safety, software use, and mindset: delivery driver training is pretty critical, isn't it? Getting it right means that you, your drivers and your customers are all going to have a better experience.
When your drivers become more efficient, you'll deliver more packages in less time, which saves you money and makes your customers happier. And the drivers themselves feel the benefits of doing their work well, too.
Four main things to consider
There are four main things to consider for your delivery driver training program:
▶️ Customer service
▶️ Using your delivery software
▶️ Process and professionalism
▶️ Health and safety training
Let's have a look at those and uncover what you can do to deliver better driver training.
1. Teach them it's about excellent customer service
One of the most important things to instill during delivery driver training is the importance of the freight they're delivering (regardless of what that is). They are the last link to your client's customer.
This means they need to really consider how they build relationships when they're on the road. Be considerate, don't block driveways and do try to look professional.
Your most successful drivers will be the ones who treat their route like it's their own business. Those who care for their packages and consider the manner in which they deal with the person at the door.
If your drivers act like a simple messenger rather than an important part of the customer experience, it can hurt everyone: them, you and the customer. So try to instill a sense of responsibility and accountability through your delivery driver training program.
2. Teach them to use your delivery software
Depending on what TMS you use, this part will differ. But what doesn't change is the convenience of using a cloud-based app, like TransVirtual.
An app that can go on your drivers' mobile will be easier and more efficient because you don't need to sign out hardware to each driver (which also means you don't have to worry about repairs or upgrades). It's also easier for the driver when they can use their own phone, something they're already comfortable using.
Do you also make a habit of going out on the road yourself occasionally? This can help you stay up to date with the best ways to use your TMS as your drivers are using it. It also helps you to show empathy throughout your delivery driver training.
By going out on a run now and then, you'll find new efficiencies and understand the hardships your drivers face.
It's also really important to note here that if your delivery processes are fragmented, your delivery driver training will be harder to run. If you're running this kind of training regularly, you'll feel huge benefits from having one automated transport management system (TMS) to introduce everyone to.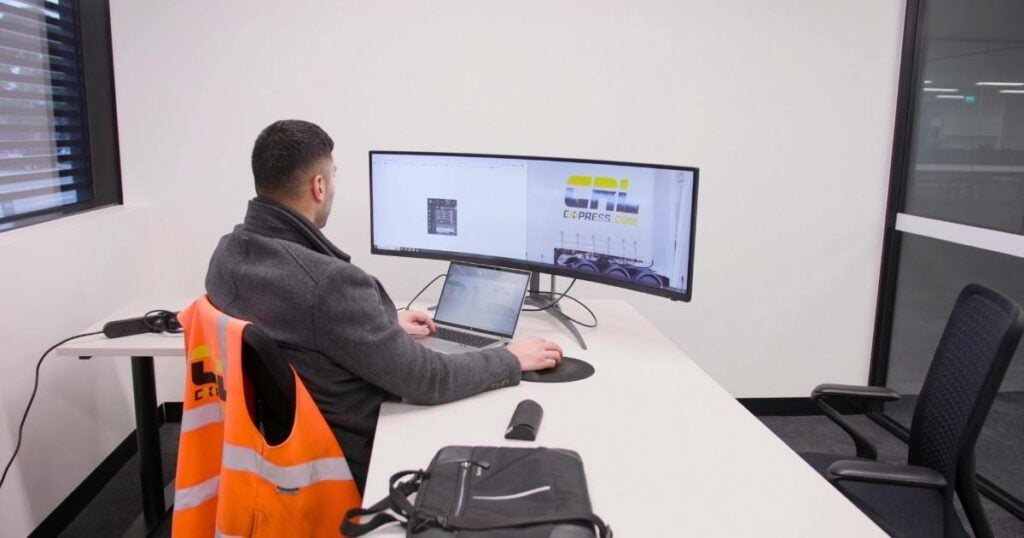 3. Teach them to think like a professional driver
Mastering the software is important, but in many ways that's the simple part. Helping your driver to adopt a professional driver's mindset is crucial.
Professional drivers don't just drive like everyone else does, following the GPS until they arrive at their location. There's a lot more to it.
And you don't teach them that in your delivery driver training then they're going to make subtle but significant mistakes. A small delay at every stop or during every transit leg really adds up over the day.
It may also mean that they're not delivering the best customer experience (if they're stressed and rushed), and we've established just how important that is.
Reducing the incidence of small errors and delays is usually pretty simple. Make sure you include these two things in your delivery driver training:
Showing your driver how to load their vehicle efficiently. Teaching them how to navigate in real time (our turn-by-turn software can help you here, too).
4. Train your drivers to remain safe and healthy
Your delivery driver training might include classes in: safe driving, driver safety, and defensive driving. This part of your driver training will always vary depending on the size of your business and what your drivers are delivering.
There's clearly going to be different safety training for long-haul truck drivers on the Sydney to Melbourne route then there is for a courier buzzing through the CBD all day.
In terms of health (both physical and mental), remember that whatever can happen will happen. Murphy's Law. So think ahead and especially consider the environment your drivers are going out into. If you're in Hobart, suggest they keep a light rain jacket in the vehicle so they don't get soaked and stay wet all shift. These are the types of things that impact on their health, happiness and productivity.
Final thoughts
Your delivery driver training is always going to be shaped by what your drivers do every day in your business. A full-featured transport management system can really help your new employees become better drivers.
At TransVirtual, we've developed a TMS that's easy for your drivers to use on their phones, and generally centralises and automates the core aspects of your business in one easy-to-use platform.
👉 Get in touch for a chat about how it might work for you or call 1800 975 305. We'd love to help.