Table of Contents:
Discover how an effective freight consolidation strategy can help you move consignments from different suppliers to a single destination in the most efficient and profitable way.
Delivering stuff across town, across Australia and across the world is what your logistics business is really good at, isn't it? And finding practical solutions to your customers' freight issues is a part of the job that can be really satisfying…and really difficult.
As the costs associated with delivering freight continue to skyrocket, and supply channels become more and more constricted and complex, Australian freight logistics organizations need to become ever more creative and flexible.
One way to streamline your delivery channels is to consolidate different consignments into single loads, to maximize space in containers, trucks and delivery vans and to minimize your overheads.
But in order to be successful, your freight consolidation strategy needs to be robust, adaptable and easy to use. The good news is that there are some excellent logistics software systems available in Australia that will enable you to control your freight consolidation process right down to minute-by-minute updates.
So let's unpack the advantages of freight consolidation and how it can take your clients' freight expectations from "it can't wait" to "great job, mate!"
What Even is Freight Consolidation?
Good question! At the most basic level, freight consolidation is simply putting freight consigned to multiple locations, and from multiple suppliers, into one load that can be delivered to one destination.
Imagine, for example, a trucking firm that has a shipment of safety barriers, traffic cones and tiger tails that need to get to, say, Charles Kingsford Smith Airport in Sydney. The company next door to your warehouse has five new AMP containers destined for QANTAS at the same airport.
By combining these two loads, one vehicle can be used to get the whole lot to its destination. This is freight consolidation.
Advantages of freight consolidation
Freight consolidation is a facet of logistics that fosters the optimization of shipping and dispatch. In Australia, being able to deliver several different consignments at once means that some of those long-haul trips across town, across the state or across the country can be avoided.
Because of its increased efficiency, freight consolidation has benefits for both customers and delivery companies. Here are a few reasons why:
Lower overall shipping costs. By combining several consignments into one single load for dispatch you bring down the shipping cost for each order. As the shipping fee is now divided between the different suppliers (in the case of our example, between the safety barrier company and the AMP container company), each company benefits from having their goods delivered for less.
So if you are able to offer this option as part of your service, you will be establishing a point of difference from other companies who cannot undertake consolidated freight deliveries.
Enhanced safety of goods. Nobody likes receiving goods that have been damaged. So if you are able to expedite several deliveries at once, chances are you'll reduce the occurrence of bumps, scratches and falls because the consignments spend less time sitting around in handling facilities awaiting transport.
Efficient loading dock management. While we're on the subject of goods spending less time at your facility, freight consolidation has the added advantage of freeing up space in the warehouse and facilitating fewer vehicle movements into and out of your loading docks.
Enhanced flexibility. Things can change rapidly in Australian freight logistics. The big distances our deliveries have to travel, the unpredictable weather, staff shortages, and the length of our supply chains can quickly disrupt even the most meticulously-planned systems.
An effective freight consolidation process will give your warehouse management operation an additional layer of options for when the wheels come off, a spanner gets thrown into the works…or some other third cliché comes along to stuff up your carefully laid plans.
Reduced environmental impact. A crucial aspect of the freight business these days is lessening your carbon footprint. By consolidating separate consignments into one load you will be taking one or more vehicles off the road, thus lessening congestion, saving on fuel and labor, and creating fewer emissions.
Access to additional shipping options. Freight consolidation is a two-way road, so to speak. Sometimes, it might be advantageous for you to send a shipment as part of a consolidated load being carried by another operator. If your management software is set up to monitor and contact other operators, you can rapidly assign goods from your facility to be dispatched with other carriers.
By adding this additional layer of shipping options, you can ensure that your client's product is out for delivery as rapidly as possible and not sitting in your facility for any longer than is necessary.
So how do you bring together all of these moving parts in order to create a freight consolidation system that will go the distance? Another good question. That's where an effective logistics software system comes in.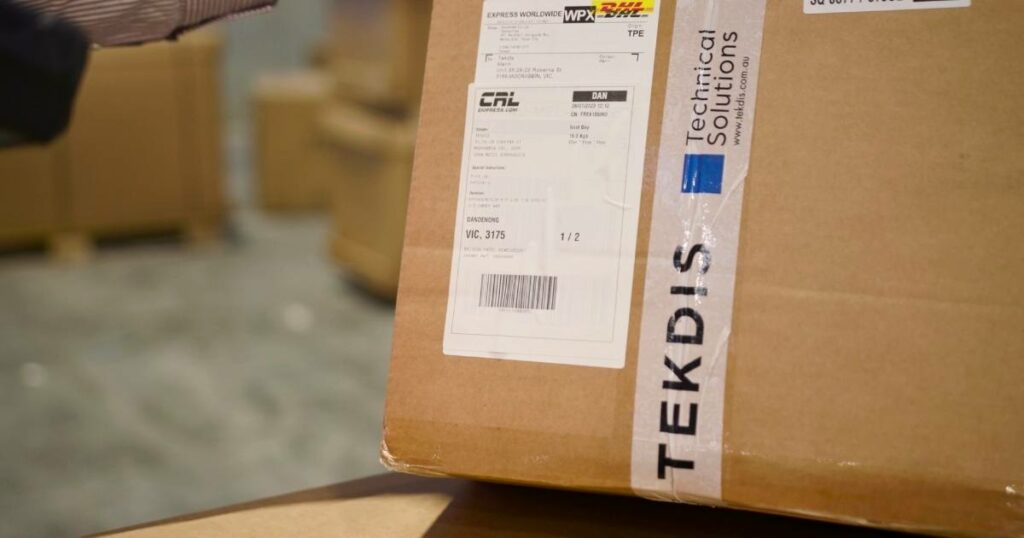 The Nuts and Bolts of Freight Consolidation.
Freight consolidation requires seamless communication between the carriers, planners, logistics providers and customers involved across the entire supply chain. The process of consolidating freight can be broken down into five steps, each one requiring meticulous planning and control.
Goods receipt.
The products from multiple suppliers come together at your warehouse or facility. Your system will need to be able to collate and monitor the dispatch documentation, assign space in your facility, and keep track of where multiple sets of goods are located ready for the complete load to be made up.
Product storage.
If you are putting together a consolidated load consisting of multiple sets of products from several customers, your system will need to keep track of the area required to store the goods until the load is complete.
This is especially important if the load is going to take several days to assemble. You don't want piles of products destined for other destinations blocking access to (or taking up space required for) your consolidated load.
Stock management.
Consignments from different customers need to be weighed and labelled correctly to ensure that you can charge accordingly and to ensure the goods are consolidated into the correct loads. You may also have to unpack or repack parts of the consignment to ensure that it fits into its assigned mode of transport — delivery van, truck, shipping container or air freight container — in the most efficient way.
This is a part of the freight consolidation workflow that requires the most robust and comprehensive suite of logistic software in order to keep track of everything. You don't want your customer's consignment of traffic cones and tiger tails to end up at the airport in Dubbo instead of CKS!
Grouped together.
In this phase of the freight consolidation process, all parts of the order are brought together, loaded and dispatched to their respective destinations. At this point of the process, your delivery management system should be able to provide you with a complete overall picture of the operation from start to finish.
Streamline Your System.
Being able to successfully bring together consignments from different customers and send them out to their correct destination, will give your delivery company an edge over your competitors.
And by having a software system that can control and manage every stage of the freight consolidation operation — from tracking down separate loads from different clients to confirming deliveries to multiple happy customers — you'll be able to guarantee your customers' goods will be delivered on time, intact and with a minimum of fuss.
Freight consolidation is an aspect of delivery logistics from which everyone benefits. Your customers will be happy to have their goods delivered faster and for less. Your operations staff will be glad to free up space in the warehouse. The goods consigned to you will be in safe hands, and Australia's environment will benefit from reduced emissions and less congestion on the roads.
Even your accountant will be happy that you've spent less on fuel and overheads. That alone is worth it, don't you think?